Discover more from Make Work Better
Re-engineering workplace culture for the hybrid age. The latest news and analysis on what comes next for work. (from Bruce Daisley, workplace culture expert published in Washington Post, Harvard Business Review, Wall Street Journal & The Guardian).
Over 16,000 subscribers
Remote working backlash - the second wave begins
ALSO: free RSA talk / how to master asynchronous working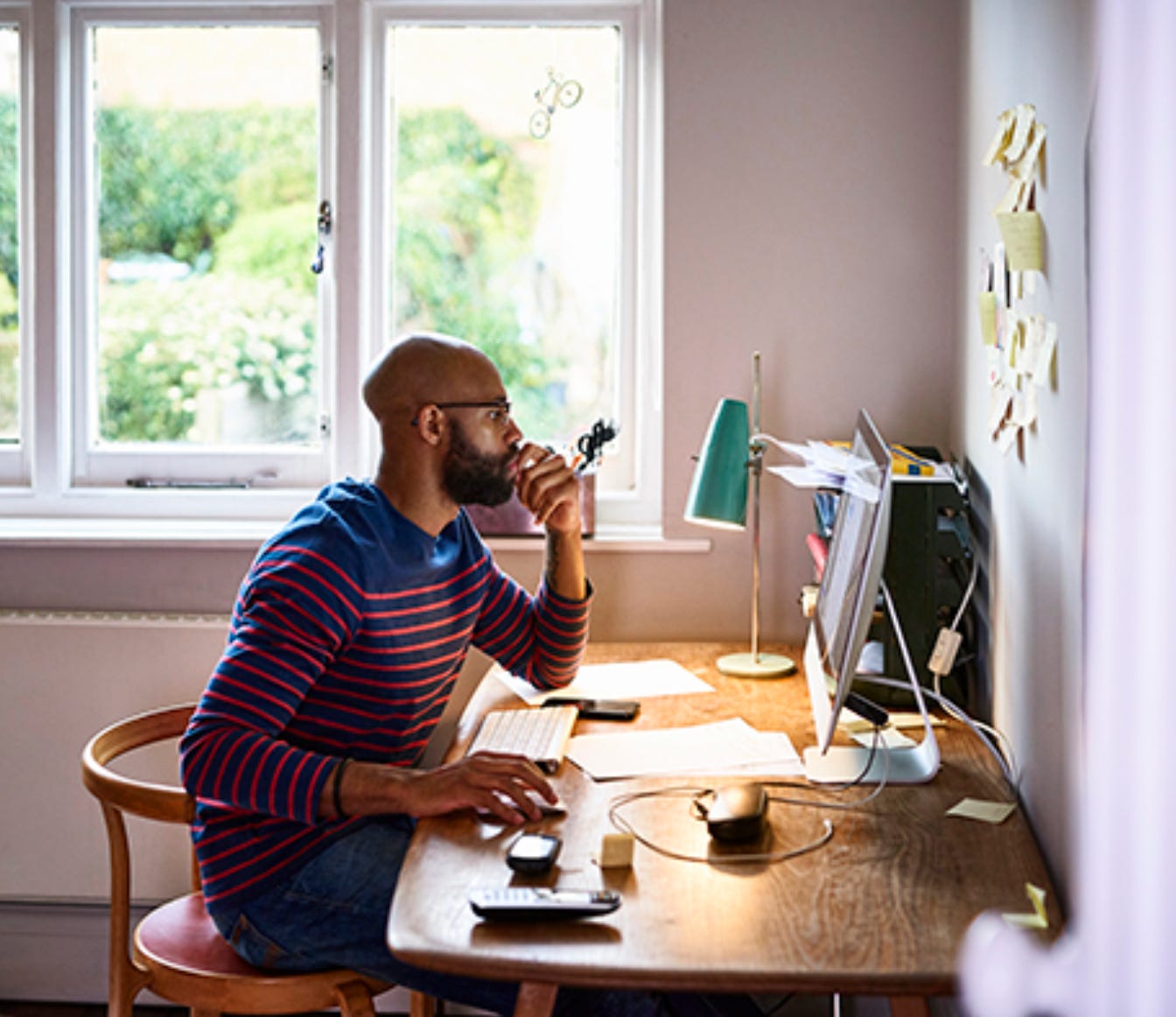 I'm doing a free talk for the world renowned RSA on 22nd October at 1pm. It's about how to overcome the challenges of remote work. It promises to be a fast moving stimulating 30 minutes. Sign up here - it's free so feel free to share.
---
Has the remote work backlash begun?
A few weeks ago we talked about how remote work might look less appealing in the final quarter of the year as the nights got longer and the first burst of crisis mode productivity dissipated from the system.
We've clearly had multiple stages of lockdown:
Stage 1: queueing to realise the supermarket only had Frosties and banana milk left and thinking you could definitely handle that for dinner
Stage 2: that month where everyone had a least one colleague who would drone 'guys, we're not working from home, we're LIVING AT WORK' and they would say it in most Zooms wondering why no one was writing it down
Stage 3: the joyous sunny week in June when Zoom Quizzes came to an end
Stage 4: the moment in August where we all started getting misty eyed about our wonderful colleagues while privately reflecting that two wet days in Dorset wasn't quite as good as Greece last year
We've been waiting for Stage 5, when our bosses announce they have changed their minds and the Working From Home Experiment is over as soon as we all get a dose of whatever witchcraft medicine Donald Trump has been given.
So I've been on the lookout for backlash stories - these things are catnip for traditional bosses. You know the way it works, your boss has never ever seen City AM before and, lo, out of nowhere they're forwarding you a link from it. Sure enough here it is… straight from your boss's inbox a piece in City AM last week: "Majority of UK businesses to scrap working from home post-pandemic".
This was intriguing on a couple of levels, firstly the headline got no pick-up anywhere else considering it claimed to be taken from the Office of National Statistics. Secondly the number the article claimed 'two-thirds of businesses' seemed such a big stat, from such a reputable source that if it was true it was worthy of covering.
I tracked down the source material on the ONS website and found this chart.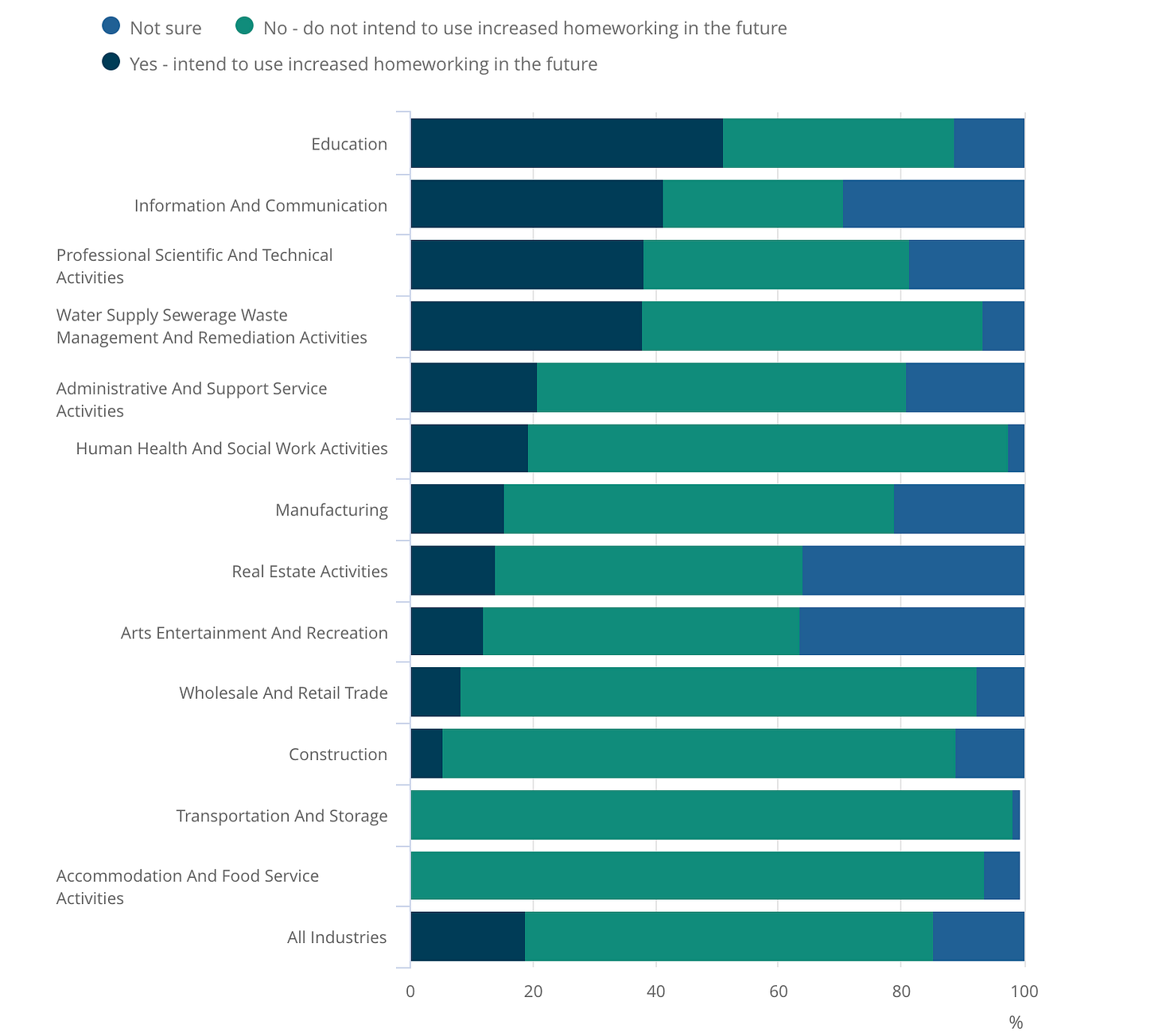 But it was hard to track down the number in the headline about 2/3 not continuing remote working. Until you download the source data and it's the size of the middle bar at the bottom once Not Sures are removed.
That seems to be an unfair number to look at this - and not really representative of what is really happening because clearly industries like Transportation, Food, Hotels, Construction, Entertainment and Retail are all strongly limited in how they can migrate to remote working (although most of them show a small shift nevertheless).
But in the sectors that you might expect there to be changes the numbers are huge: (% saying 'Yes we intend to use increased remote working')
Education +51.1%

Information & Communication +41.2%

Scientific & Technical activities +38.2% (btw who creates these categories of industries?)
Keep your eyes peeled, but I don't think this is the story your boss is looking for.
(What certainly is true, is that organisations that are suffering from low morale are going to find that this is going to become worse as time goes on. On that subject this week's podcast is a good listen…)
LISTEN: on the latest Eat Sleep Work Repeat, Casper ter Kuile joins me to explain how rituals can be important tools to deliver a sense of community (at work or elsewhere). This is the 3rd part of the series on community - you can catch up with the previous episodes here.
---
Experimenting with asynchronous working
"Slack is designed to keep your attention within its confines, which sometimes comes at the expense of actually getting any work done" 
When most of us hear that the fully remote firms ditch meetings and focus on asynchronous working it sounds intriguing but - frankly - hard to imagine. Like listening to someone speaking a foreign language, it looks possible for others, but just not for us. The TL;DR of asynchronous working is that it is working written down and as a result it can feel less like a constant melee of Slack & Zoom (which might be an issue or a selling point for you).
Anne-Laure Le Cunff does a good explainer of asynchronous working here.
Find your signature move…

---
Make Work Better is created by Bruce Daisley, workplace culture enthusiast. You can find more about Bruce's book, podcast and writing at the Eat Sleep Work Repeat website.