Discover more from Make Work Better
Re-engineering workplace culture for the hybrid age. The latest news and analysis on what comes next for work. (from Bruce Daisley, workplace culture expert published in Washington Post, Harvard Business Review, Wall Street Journal & The Guardian).
Over 16,000 subscribers
Offices - the case for 'faster horses'?
ALSO: the oil rig approach // cities reborn?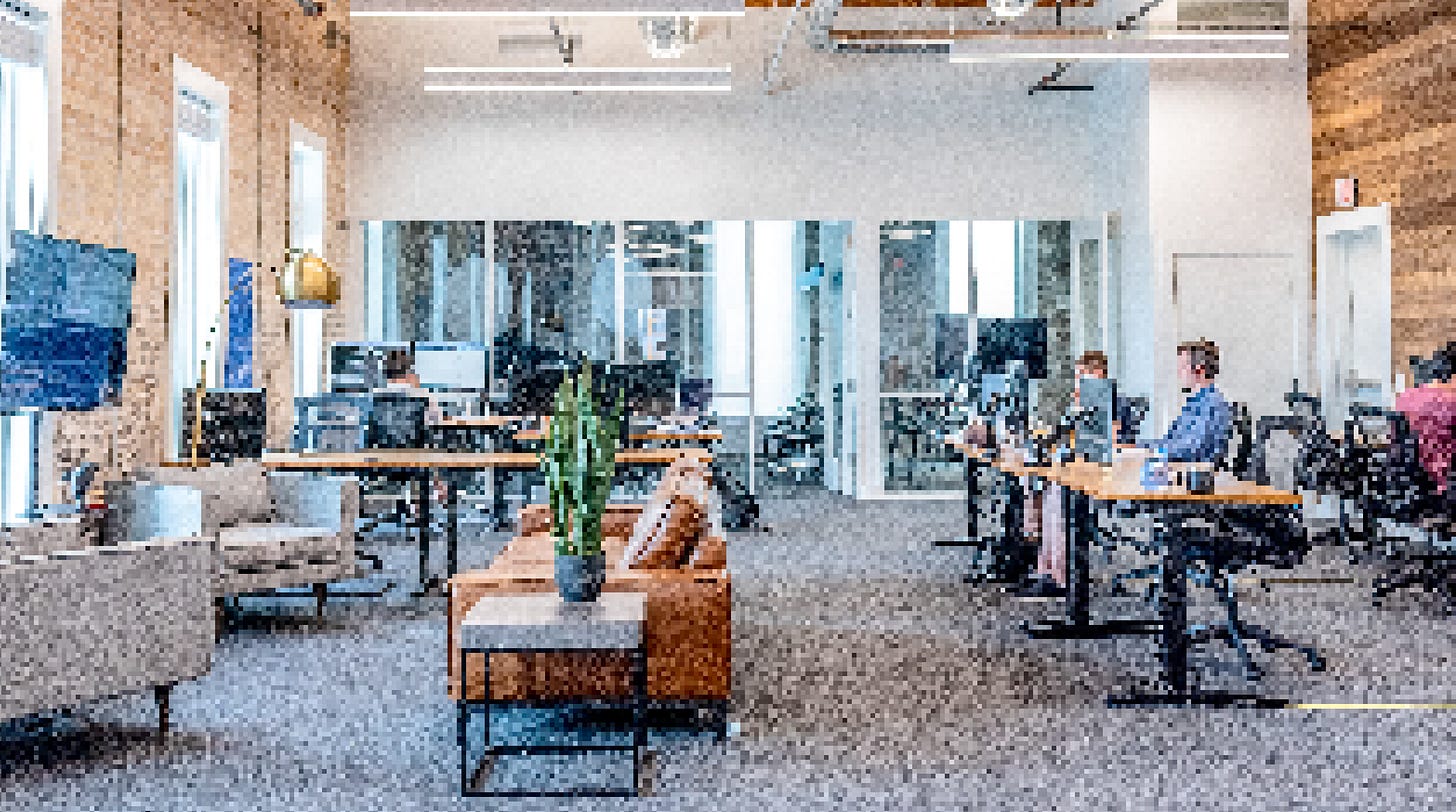 I ventured into central London last week and found myself being surprised by a conversation with friends who had no overt interest in workplace culture. Always good to have occasional chats with civilians, and this was very much styled as a lesson from the University of Common Sense. The surprise was their vehement defence of the old 5 day week in the office. 'As soon as a vaccine is here, we're back to normal - guaranteed!' was the insistent assertion.
It struck me that maybe my talk of a workplace revolution might be misplaced. That I was being blindsided by surrounding myself with people who believed that something fundamental had changed. I was in a bubble. Henry Ford had coined the faster horses metaphor of why we don't foresee the arrival of disruptive innovation, but that presumes that remote working is a beneficial disruptive innovation. Maybe the office was perfection and everything else a less productive, less enjoyable distraction?
On LinkedIn and Twitter I asked for the opposing view to my own. I wanted to know the case for going back to the office 5 days a week. Why some firms were insistent that the old world was 100% right. I got sent a range of different takes on what will unfold next.
We know the experiences of remote working haven't been evenly distributed and one of the perpectives I was sent was from James, a twenty-something start-up founder.
Without a physical start and finish to my day, my days at home never really get started and never really get finished. I have no urgency and I am easily distracted, preventing me from achieving flow. Days bleed one into another, and I find myself less and less motivated – a vicious circle. I can switch off. For those who can't, this has meant 16-hour workdays, day after day. Most people don't have the self-discipline to enforce a routine, nor the space to create physical separation, and I don't think we should suddenly expect them to.
While James' angle was one that chimed with some of the talking points of the commercial property firms there was definitely a sinking feeling when I realised he himself worked in commercial real estate (and the piece was published on a property industry website). That's not to discount his take, but I wanted something completely untainted by personal interest.
Someone else who got in touch was Andrew Southcott, MD of the Captivate Group, a media agency. Similar to Dan Shute, he has just led the charge of getting his team back into the office (in some cases for a full 5 day week).
In a field where new entrants can often establish a niche through their inventiveness and guile, Andrew believes that his team was becoming a touch stale, for him being around people has a big impact on creativity:
"I believe… a high-functioning team will always outperform even the best lone wolf. Having time to think without office distractions has its benefits and has kept the work going out the door. But... my prediction is that in the 2020 award shows, the big wins will be for work created by physically connected teams, not digitally connected".
He also mentions the civil duty of being in a city, that we all need to be pulling for Team London (in his case):
"We have operated from the Tea Building in Shoreditch for 20 years. It is the company's home. Businesses are built around ours and others' businesses. The pub, the Pret, the shops – those guys are fighting for their economic lives, by going back we help the wider community get back up and running".
This is the argument that Danny Donovan (from Mediacom) challenged in a piece for Mediatel last week.
"I read recently someone arguing that everyone should go back to work in the glass towers of Canary Wharf in order to support the retail that has sprung up there… But in reality, there is no apparent need - certainly not an urgent one - for those Canary Wharf office workers and their counterparts around the world to go back to their desks".
As Danny says, such arguments generally avoid confronting a bigger question:
"So why should offices exist? Why do we bring millions of people into one location to sit together for a set time every day of the week? Or any days of the week? Protecting an economy, which was built solely to serve the workers who went there, doesn't really hold water in the long-term. There is an amazing opportunity being presented to us. How can we be better when we do come back together physically in some way?"
Citing his father's former career as a docker, Donovan concludes:
"It is no longer possible to argue it is necessary for purely practical reasons. Dragging people to central London to work every day has become as outdated as sailing a big ship up the tidal Thames bearing goods".
Brilliant. Another voice shared with me was of the co-founder of CityAM, Lawson Muncaster. CityAM is a newspaper distributed by hand to the commuters who emerge from stations in the City of London and the business districts of the UK. This week Lawson has led the charge of getting his team back to the workplace (and the local winebar, The Grapes).
It's the spin in these stories that disappoints and Muncaster performs a casual act of misdirection when he claims that:
"businesses can't be as productive without a central place to meet… we've all been working home for 5 months and UK GDP is down 20%".
It was disappointing then that a more robust case wasn't given to me in defence of the 5 day week (and the offer stands, I'll happily publish a well-argued case for a full return to the office here with no interjections or quibbling). If we're not careful we can find ourselves listening to the arguments of those with clear vested interests, soon we're defending the interests of capital (building owners, investors) over the collective interests of real people.
This is a little like the office manager who phoned James O'Brien this week saying working from home had been going so well that he'd been made redundant.
While, yes, this is a tragedy for the office manager involved the fact that remote working has been going well enough to make this change is hard to square with Lawson Muncaster's doomsaying.
Ultimately the perspective of 2020 will surely be that this year has catalysed a moment of collective disruptive innovation. The sort that most firms have dreamed of on team away days for decades. It's also demonstrated to most firms that with a pressing enough imperative they're able to make massive changes very quickly. It's a moment of mass empowerment. If we start looking forwards the opportunity is for us to work out how to keep the best of both worlds: an inspired, creative and connected team AND a productive workforce able to balance life & work more agreeably. It's clear that we don't need to commute five days a week to achieve that.
The oil rigs approach
Investment bank JP Morgan came out and gave their take on the new world this week. Amongst the options will be two weeks on/two weeks off: "Depending on the type of business, you may be working one week a month from home, or two days a week from home, or two weeks a month." Which if I'm not mistaken is how workers on oil rigs operate.
It'll be interesting to see how firms wrestle with this. Especially if school vacations will be added to the 'away' time.
Jerry Seinfeld on why cities shouldn't be written off any time soon - because remote doesn't work.
Guess what? Everyone hates to do this. Everyone. Hates. [Remote].

You know why? There's no energy.

Energy, attitude and personality cannot be "remoted" through even the best fibre optic lines. That's the whole reason many of us moved to New York in the first place.

You ever wonder why Silicon Valley even exists? I have always wondered, Why do these people all live and work in that location? They have all this insane technology; why don't they all just spread out wherever they want to be and connect with their devices? Because it doesn't work, that's why…

This stupid virus will give up eventually. The same way you have.
We're going to keep going with New York City if that's all right with you. And it will sure as hell be back.
Popular posts you might have missed: One More Oink in the WeWork Pig, The 12 Questions Every Firm Should be Asking, Whiteboarding the New Rules, Office Culture Crumbling Before Our Eyes, Setting a Date for September?

After our cities die, our cities will be reborn: "Many people who can will leave forever. Rents will be lower (maybe a lot lower). Artists will be able to live in NYC again" (This is such an exciting prospect, thanks to Antony Slumbers for the link)

3/4 of British workers say work culture has got better since lockdown - with most crediting remote work as the cause

Brilliant feature: 86% of people enjoying the WFH life, 1 in 5 people want to go back to the office full-time, 1/3 of people debating moving city if their work allows them to stay totally remote
---
Make Work Better is created by Bruce Daisley - you can read all of my stuff at the Eat Sleep Work Repeat website. I'm always interested in what different firms are experimenting with - do get in touch if you've got something innovative to share.