Discover more from Make Work Better
Re-engineering workplace culture for the hybrid age. The latest news and analysis on what comes next for work. (from Bruce Daisley, workplace culture expert published in Washington Post, Harvard Business Review, Wall Street Journal & The Guardian).
Over 16,000 subscribers
How Microsoft's new culture became their winning strategy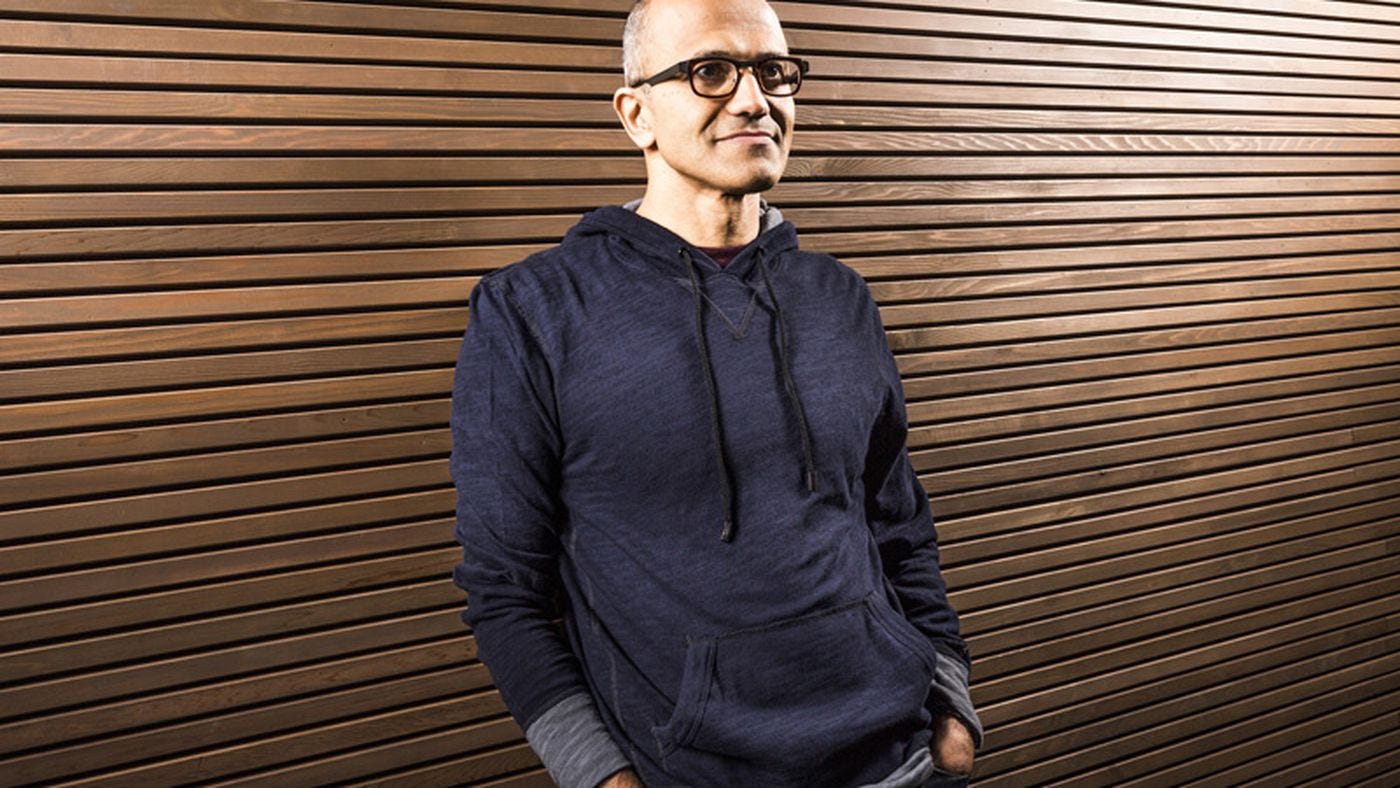 Nadella's Reinvention at Microsoft
New podcast today - looking at how Satya Nadella changed the culture at Microsoft. The podcast includes two feature interviews - one with London Business School professor, Herminia Ibarra (who has written a paper on the changes at MS) and also long-term Microsoft employee, Paul Davies. Together they give a fascinating insight into how to change a culture. If you're interested the main lessons of the story are featured on a PDF that you can download here.
Nadella decided that the old 'know it all' culture at Microsoft was modelling certainty in an ever-changing market that was full of surprises. The result had been that Microsoft was in a rut of copycat products like the Zune and Surface. He didn't have a new product to get them out of the problem so he set about trying to change the culture - away from the fixed mindset of 'know it all' to the growth mindset of 'learn it all'.
There are some important lessons along the way:
repetition - saying the same thing a lot makes teams (surrounded with noise) realise what matters

signalling change - one way to keep the repetition fresh is have it appear in different forms (Nadella wore different clothes, he cancelled meetings - all to send up a flare saying 'things are different')

an emotive mission - we often think of what we want to say and type it on a slide. Nadella wanted to create something that made people feel different
4 strategic rules that lead to great culture
I adore Zeynep Ton's Good Jobs Strategy. Even though her book is about the retail business (supermarkets specifically) the thinking it has applies to a lot of other areas of work. This article is a good reminder of some of the themes in her book - specifically companies that give their workers a good workplace culture are more profitable and grow faster than those that don't. Ton's 4 rules of strategy that lead to better culture are: 1) offer less, 2) standardise and empower, 3) cross-train, and 4) operate with slack.
It's such a brilliant provocation. People often presume that culture is the outcome of the benefits that firms give to workers (which of course it isn't) - and Ton nails it, culture is often the result of decisions that firms make that allow workers to have autonomy/space.
I often talk about ideas living in the gaps between things (it's in the video rant at the foot of this email) but unless teams are given space then they can't create - and there it is rule #4 of Zeynep's list 'operate with slack'.
What next? Ask yourself how different would your culture initiative would look if you started with rules about how you were going to operate your business for customers. Here's the article: "culture isn't the most important thing, it's the only thing"
---
In the latest Eat Sleep Work Repeat, Herminia Ibarra from London Business School describes how Satya Nadella fixed the culture at Microsoft (based on this case study). She went on to write another article a few months ago understanding specifically how Microsoft (and other companies) set about enacting cultural change - looking at the direct actions we can all learn from. She identified that cancelling an unchallenged tradition can be a powerful message. It might be Jeff Bezos banning Powerpoint, or (in the Microsoft case) they scrapped their Midyear Review. Ibarra says when looking for what to scrap, try to look for things that 'seem to involve an inordinate investment of people or time'. At Microsoft the Midyear Review consumed senior leaders' concentration for weeks at a time. By reputation it was a 'know it all' culture where being on top of your numbers was regarded as a sign of competence. The ritual "expressed fundamental values about rigor and mastery of detail; navigating it with skill was a rite of passage for advancement to the senior ranks".
The replacement meeting used a tenth of the slides and it asked questions: What are you trying? What's working? What's not working? How can we help?
What next? If you're looking to try to bring more energy into your team by freeing up some time, circulating Herminia's article might be a good provocation for group discussion.
---
My rant about how 'work is a lie' suddenly did thousands of views this month after I reshared it on a Friday on Linked In. Timing was obviously critical when trying to tap into people's frustration with their jobs !
---
My US book, Eat Sleep Work Repeat, was out in the US last week. If you've enjoyed it please do share an Amazon review.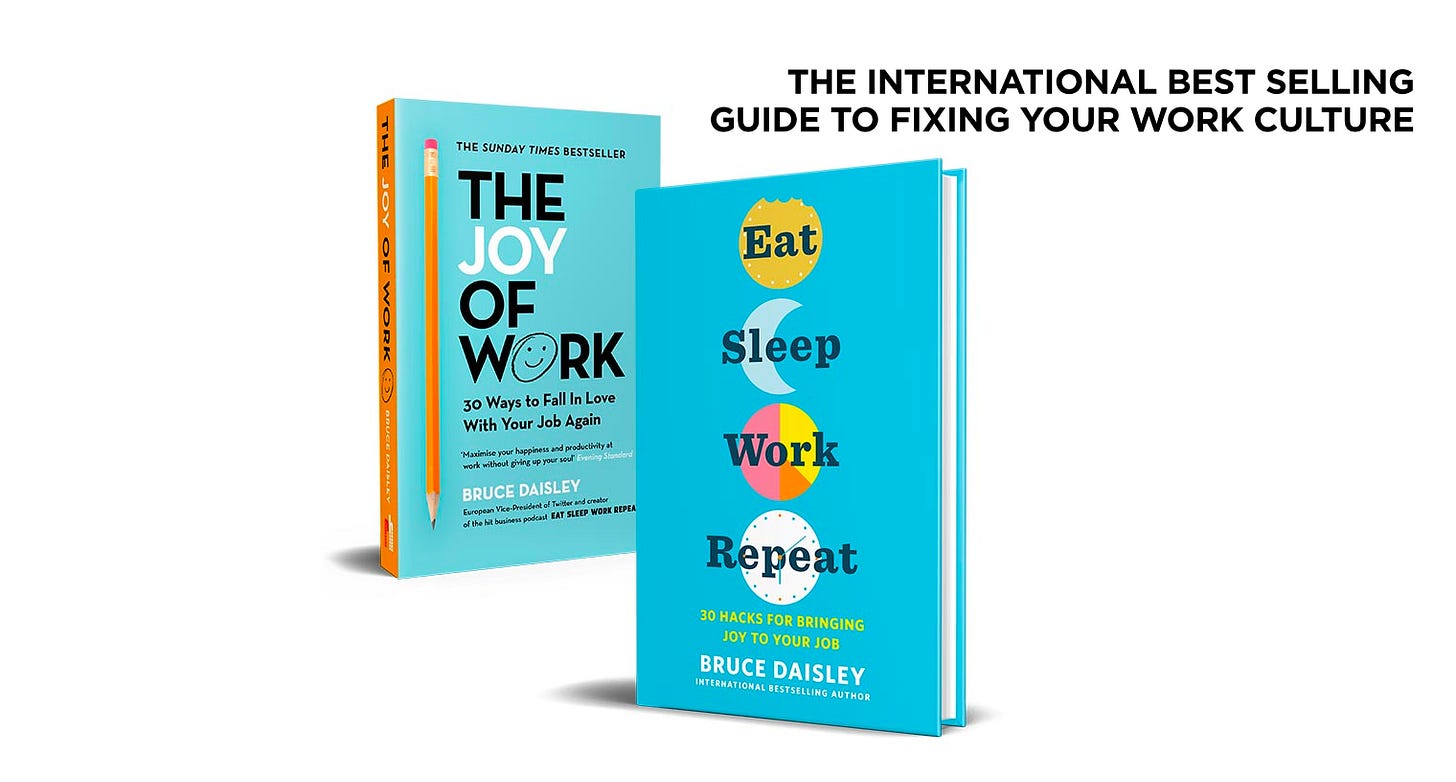 (I switched the email from Mailchimp to Substack this week. Someone told me Substack is popping off and I thought I'd jump on the wave. Going forwards these emails will be more regular, I hope).